If you are staying at home due to the lockdown, now is the time to start cooking homemade meals!

There are some staple foods that are believed to be good for your immune system such as garlic, onions, ginger, chillies, colourful vegetables, herbs and spices due to their phytonutrients content (plant compounds that are beneficial for our health) and antioxidant and anti-inflammatory properties.
This recipe is packed with vegetables and spices. It includes spinach as a source of immune-supporting iron, beta-carotene and vitamin C, aubergine which is high in phytonutrients (anthocyanins), and courgette contains vitamin B6 and C and beta-carotene. Interestingly, most antioxidants (including glutathione!) are located in the courgette's skin, that is why it is a good idea to leave the skin on.
And overall it is a very comforting meal for 2 which takes only 30 min to prepare.
Ingredients
aubergine
1 small courgette
½ of big onion, or 1 small
4 cm ginger root
2 cloves of garlic
2 handfuls of spinach
½ small red or green chilli pepper or tip of a teaspoon of powdered chilli (or according to your spice preference)
½ teaspoon turmeric powder or 2 cm turmeric root
½ teaspoon black pepper
1 heaped teaspoon of spices of your choice (e.g. curry powder) or your own blend (I like a DIY grinder-blend of cumin, coriander seeds, smoked peppers, garlic powder, onion powder, cardamom, nutmeg, cloves)
good quality salt (sea, rock, Celtic, Himalayan) and freshly ground pepper to taste
1 tablespoon of extra virgin olive oil or coconut oil
1 cup of Basmati rice
½ cup of a thick coconut milk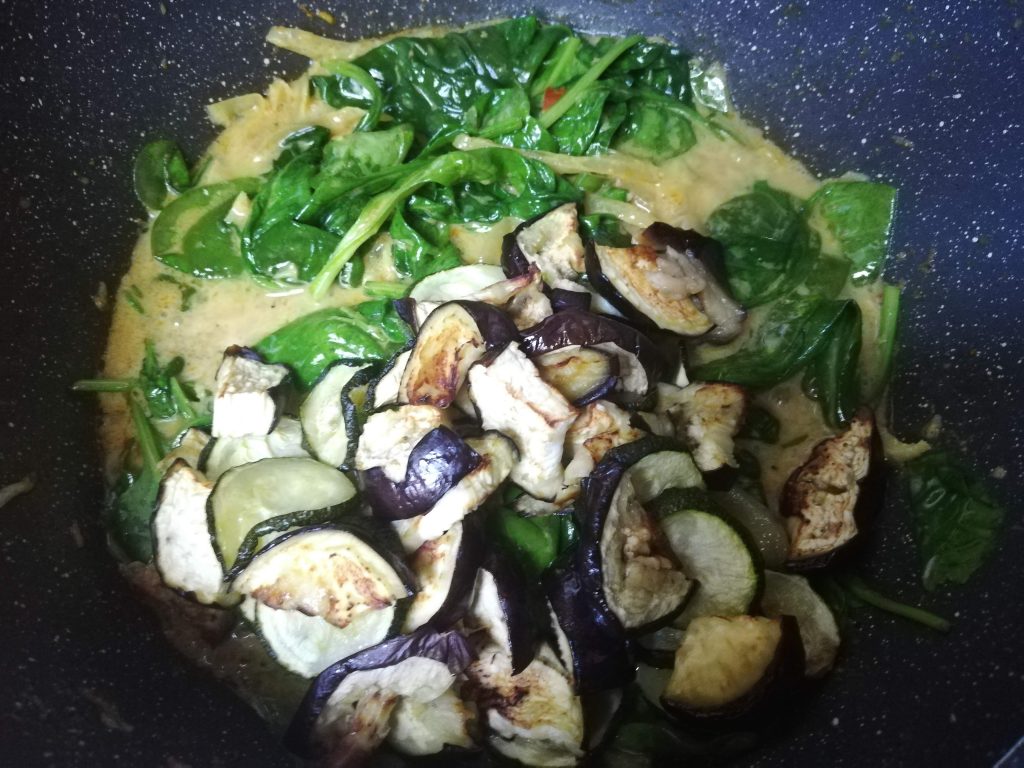 Directions
Cut aubergines and courgettes into smaller pieces and roast in the oven until tender (180 °C for around 30 min), leave the skin on.
Meanwhile, cook the rice with a little bit of salt.
Chop onions and chillies, grate or finely cut garlic and ginger (and turmeric if using turmeric root).
Heat olive oil or coconut oil in the pan and add onions, cook for 2 min until soften then add chillies, ginger, garlic, spices, turmeric, salt and pepper and cook for another 1-2 min
Add coconut milk and spinach and mix it well, cook until spinach begins to soften
Add aubergines and courgettes and mix everything together, cook for another minute.
Serve on the Basmati rice (or omit this part if trying to reduce carbs).
Enjoy!
References:
Hedges LJ, Lister CE (2007) Nutritional attributes of spinach, silverbeet and eggplant. Crop and Food Research Confidential Report no. 1928. Christchurch: New Zealand Institute for Crop and Food Research.
Kochhar KP (2008) Dietary spices in health and diseases: I. Indian J Physiol Pharmacol 52:106–122